Product
Filter
/
Filter
Reset Filter
Search By Name
Sort
Price
Size
Display
LADY RANGER SKYBLUE KEVLAR JEANS MC PORTS LR112
Shipping Class : Shipping : 15 CHF
Add To Cart

Fast shipping worldwide

Return within 20 days

Lowest price guarantee

Made to measure clothing
Mc jeans with full kevlar. Stylish kevlar pants in denim fabric.
A highlight among mc riders who want to wear the best looking. Fits great with all jackets textile as leather.
Here you get a trousers that are completely covered with kevlar. Curved design for the best fit for ladies.
Internal protection pockets with CE protection.
Customized YKK zippers, buttons.
Pre-bent leg structures for the best fit
Fully covered with 100% Kevlar Para-Aramid Extra Strength
Twilve denim cotton 96%
Removable / adjustable CE protection on the knees
Mesh lining above kevlar
Doublestitch strength - Double stitch reinforcements on most moving parts of the pants
Pockets for storage
Wash at 30 degrees (Can shrink 5% at first wash)
Place for belt
| | | |
| --- | --- | --- |
| Size / size | Waist / Waist - B (cm) | Seat - C (cm) |
| XXS | 60-64 | 82-86 |
| XS | 64-68 | 86-90 |
| S | 68-72 | 90-94 |
| M | 72-76 | 94-98 |
| L | 76-80 | 98-102 |
| XL | 80-84 | 102-106 |
| 2XL | 84-88 | 106-110 |
| 3XL | 88-92 | 110-114 |
| 4XL | 92-96 | 114-118 |
| 5XL | 96-100 | 118-122 |
| 6XL | 100-104 | 122-126 |
| 7XL | 104-108 | 126-130 |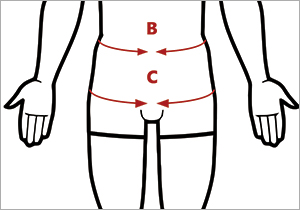 BUY MATCHING PRODUCTS - GET THE FULL LOOK